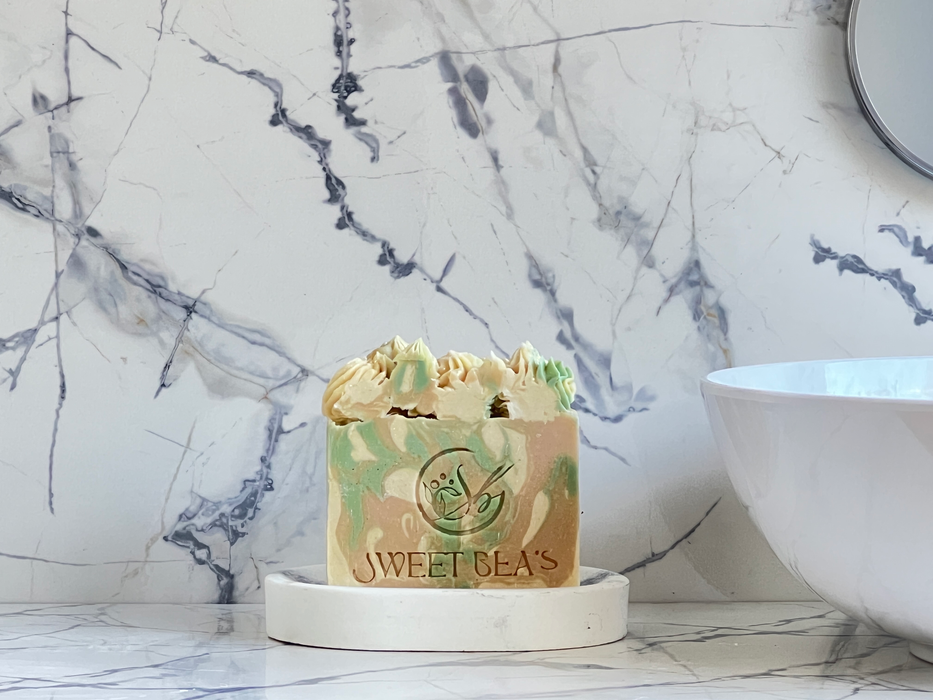 Woman's Soap Lovers Gift Set
Original price
$20.00
-
Original price
$20.00
Elevate your daily self-care routine with our meticulously curated Fragrance Variety Gift Set, tailored exclusively for the modern woman who values relaxation, rejuvenation, and indulgence. This luxurious set comes in a beautiful wood box, making it the perfect gift for any occasion or a well-deserved treat for yourself.
What's Inside:
Diverse Fragrance Experience: Immerse yourself in an enchanting array of fragrances, each carefully selected to match different moods and moments. From the comforting essence of Autumn to the invigorating Lemongrass, the delicate charm of Asian Blossom, and the soothing tranquility of Sea Glass, this set offers a fragrant journey like no other. With Fresh, Twilight Fusion, Pink Grapefruit, Luxe Lilly, and Oatmeal Milk & Honey, you'll have a scent for every mood.

Handmade Soap: Our handmade soaps are crafted with the utmost care and expertise. Each soap promises a luxurious lather and an enticing, feminine fragrance to elevate your daily self-care experience.

Elegant Soap Dish: This soap dish is not just a practical accessory; it's a statement piece for your bathroom. Crafted with precision, it adds a touch of sophistication to your self-care routine while keeping your soap dry and ready for use.

Soap Saver: Ensure that no soap goes to waste with our soap saver. It's perfect for those small soap scraps or itty bitty pieces, helping you work up a rich lather for a complete cleansing experience.
Benefits:
Enjoy a diverse range of enchanting fragrances to match your mood.
Handmade soaps promise a luxurious lather and an enticing, feminine fragrance.
The elegant soap dish adds sophistication to your bathroom.
The soap saver ensures no soap goes to waste.
The stylish wooden box makes it a perfect gift.
 Embark on a fragrant journey and elevate your self-care game with the Fragrance Variety Gift Set, designed especially for you, the modern woman. Whether it's a special occasion, a gesture of appreciation, or simply a well-deserved treat, this gift set is the epitome of feminine refinement and indulgence. Embrace the art of self-care and explore the diverse scents of Autumn, Lemongrass, Asian Blossom, Sea Glass, Fresh, Twilight Fusion, Pink Grapefruit, Luxe Lilly, and Oatmeal Milk & Honey because you deserve nothing but the best!
Ingredients:  
Coconut Oil:

 

Deeply hydrates, nourishes, and provides antimicrobial properties.
Olive Oil:

 

Softens and moisturizes the skin, rich in antioxidants, and has anti-inflammatory properties.
Shea Butter:

 

Offers intense moisture, soothes dry or irritated skin, and maintains skin's natural elasticity.
Castor Oil:

 

Enhances lather, adds creaminess, and helps cleanse and condition the skin gently.
Hemp Seed Oil:

 

Balances oil production, soothes inflammation, and is rich in essential fatty acids.
Colloidal Oats:

 

Soothes sensitive or irritated skin, reduces itching, and provides a calming effect.
Raw Honey:

 

Acts as a natural humectant, attracting moisture to the skin for a soft, radiant complexion.
Buttermilk Powder:

 

Contains lactic acid to exfoliate and brighten the skin, leaving it refreshed and revitalized.
Heavy Cream:

 

Provides deep hydration, locks in moisture, and promotes a smoother skin texture.
Kaolin Clay:

 

Gently detoxifies and purifies the skin, promoting a smooth, even complexion while absorbing excess oils.
Handmade with Love: Our soaps are handmade in small batches with "LOVE". Due to the handmade nature of the soap, no two bars are alike; however, this adds to the uniqueness and beauty of our handmade soap.