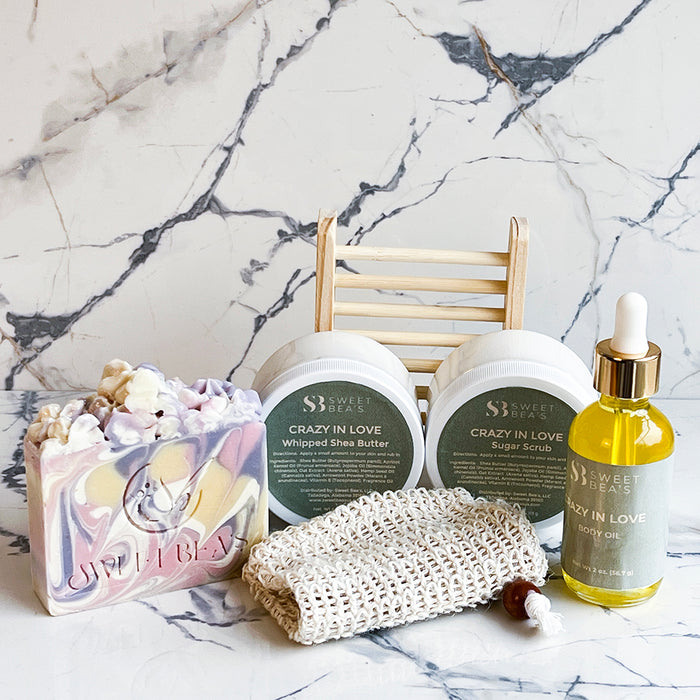 Luxurious Women's Gift Set
Original price
$60.00
-
Original price
$60.00
Indulge in the ultimate self-care experience with our meticulously curated gift set, tailor-made for the modern woman who values relaxation and rejuvenation. The "Luxurious Women's Self-Care Sensations Gift Set" is an opulent symphony of sensations, featuring the enchanting fragrances of Crazy in Love, Lavender, and Peony. Carefully assembled in a beautiful wooden box, it's the perfect gift for any occasion or a well-deserved treat for yourself.
What's Inside:
Body Oil (2 oz): Nourish your skin with our premium body oil, a silky and luxurious elixir that provides deep hydration and a radiant glow.

Handmade Soap: Crafted with utmost care and expertise, our handmade soaps promise a luxurious lather and a delightful scent.

Body Butter (4 oz): Our body butter is a rich and indulgent treat for your skin, designed to lock in moisture and leave your skin feeling soft and supple.

Sugar Scrub (4 oz): Exfoliate and revitalize your skin with our exquisitely scented sugar scrub. It gently removes dead skin cells, leaving your skin refreshed and beautifully fragrant.

Soap Dish: An elegant and practical accessory that adds sophistication to your self-care routine while keeping your soap dry and ready for use.

Soap Saver: Ensure no soap scraps go to waste with this soap bag, perfect for creating a rich lather and cleansing your skin in the shower.

The Wooden Box: This entire gift set comes beautifully packaged in a sturdy and stylish wooden box, ensuring that each component is stored with care and ready to be presented as a thoughtful gift. The box itself is a keepsake, a reminder of the exceptional quality contained within.
Benefits:
Elevate your self-care game with enchanting fragrances and indulgent products.
Nourish your skin, lock in moisture, and enjoy a radiant glow.
Create a relaxing, spa-like experience in the comfort of your home.
The perfect gift for special occasions or a personal indulgence.
Beautifully packaged and ready for gifting, the wooden box is a keepsake.
Outro: Indulge in a symphony of sensations and elevate your self-care routine with the "Luxurious Women's Self-Care Sensations Gift Set." Whether it's a special occasion, a gesture of appreciation, or simply a well-deserved treat, this gift set is the epitome of feminine refinement and indulgence. Your journey to relaxation and radiant skin begins here!