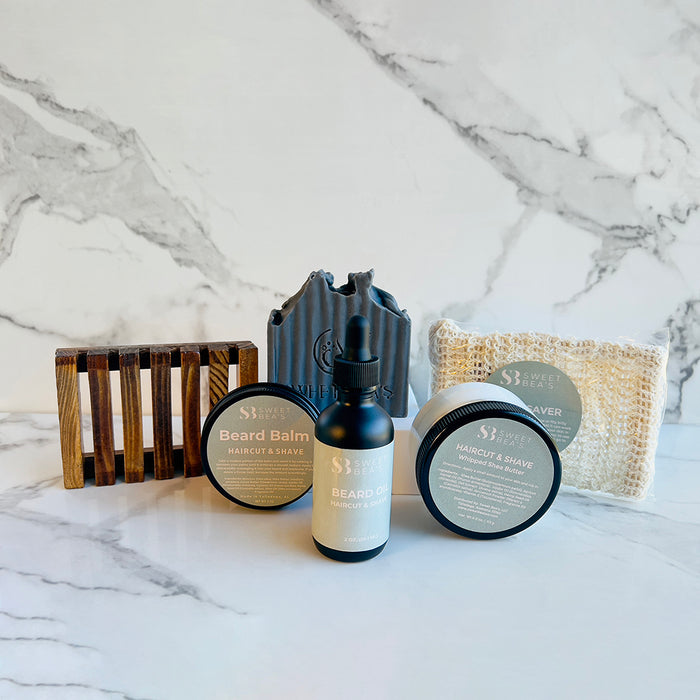 Men's Grooming Gift Set - Haircut & Shave Fragrance
Original price
$60.00
-
Original price
$60.00
Indulge in the ultimate grooming experience with our meticulously curated "Haircut & Shave Fragrance Gift Set." Designed exclusively for the modern gentleman who values style, sophistication, and self-care, this luxurious gift set comes in a beautifully crafted wooden box. Whether it's a special occasion, a token of appreciation, or simply a treat for yourself, this gift set is the epitome of masculine refinement and self-care.
What's Inside:
Haircut & Shave Fragrance: Our signature scent evokes the nostalgia of a fresh haircut and a smooth shave, capturing the essence of timeless masculinity.

Beard Oil (2 oz): Nourish and tame your beard with our premium, all-natural beard oil. It ensures your facial hair stays soft, shiny, and impeccably groomed.

Beard Balm (2 oz): Crafted to perfection, our beard balm offers superior hold and control for your facial hair, leaving it looking refined and well-maintained.

Handmade Soap: A true work of art, it gently cleanses your skin while leaving you with a refreshing Haircut & Shave scent that lingers throughout the day.

Soap Dish: An elegant addition to your bathroom, this soap dish is crafted with precision and adds sophistication to your grooming routine.

Soap Saver: The perfect way to use up soap scraps and pieces, ensuring none go to waste.

Body Butter (4 oz): Indulge in the ultimate self-care experience with this rich and nourishing body butter. Keep your skin soft, smooth, and beautifully scented with the Haircut & Shave fragrance.

The Wood Box: This entire gift set is beautifully packaged in a sturdy and stylish wooden box. It's a keepsake, a reminder of the exceptional quality contained within.
Upgrade your grooming game and embrace the essence of a classic barbershop with the Haircut & Shave Fragrance Gift Set. Experience the art of the modern gentleman today.
Benefits:
Elevate your daily grooming routine with a touch of sophistication.
All-natural beard oil and balm ensure impeccable facial hair.
Luxurious soap and body butter keep you refreshed and well-scented.
The wooden box adds style and serves as a keepsake.
Makes for a perfect gift for special occasions or a personal treat.
Ingredients: 
Coconut Oil:

 

Deeply hydrates, nourishes, and provides antimicrobial properties.
Olive Oil:

 

Softens and moisturizes the skin, rich in antioxidants, and has anti-inflammatory properties.
Shea Butter:

 

Offers intense moisture, soothes dry or irritated skin, and maintains skin's natural elasticity.
Castor Oil:

 

Enhances lather, adds creaminess, and helps cleanse and condition the skin gently.
Hemp Seed Oil:

 

Balances oil production, soothes inflammation, and is rich in essential fatty acids.
Colloidal Oats:

 

Soothes sensitive or irritated skin, reduces itching, and provides a calming effect.
Raw Honey:

 

Acts as a natural humectant, attracting moisture to the skin for a soft, radiant complexion.
Buttermilk Powder:

 

Contains lactic acid to exfoliate and brighten the skin, leaving it refreshed and revitalized.
Heavy Cream:

 

Provides deep hydration, locks in moisture, and promotes a smoother skin texture.
Kaolin Clay:

 

Gently detoxifies and purifies the skin, promoting a smooth, even complexion while absorbing excess oils.
Handmade with Love: Our soaps are handmade in small batches with "LOVE." Due to the handmade nature of the soap, no two bars are alike; however, this adds to the uniqueness and beauty of our handmade soap.