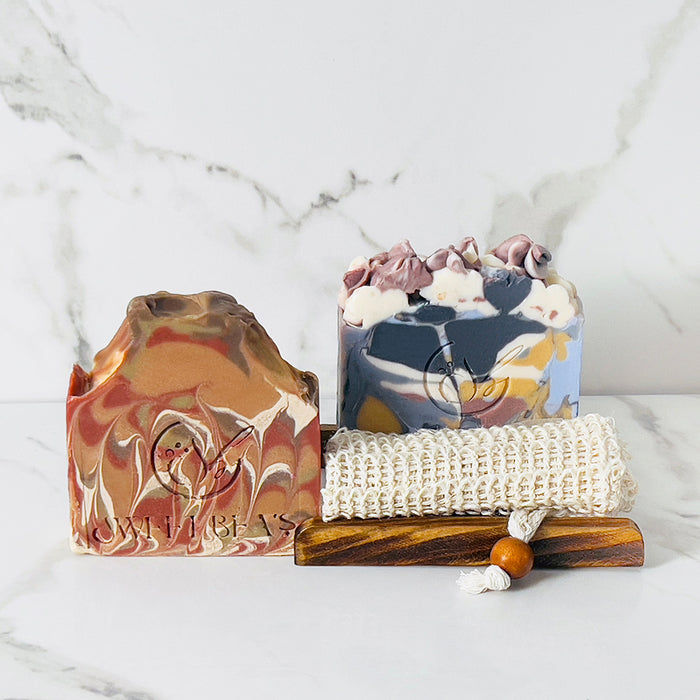 Soap Lover's Gift Set For Men's
Original price
$20.00
-
Original price
$25.00
Treat yourself or a special man in your life to a sensory adventure with our exclusive Men's Soap Lover's Gift Set. This curated collection boasts an array of distinctive scents, each designed to invigorate and transform your daily grooming routine.
Storm: Feel the energy of the storm with a refreshing, revitalizing aroma.
Harmony: Achieve perfect harmony with this balanced and sophisticated fragrance.
Bold: Dive into an empowering blend of aromatic richness and confidence.
Drifter: Embrace wanderlust with this captivating and free-spirited scent.
Sexy Spice: Spice things up with a tantalizing and alluring fragrance.
Activated Charcoal: Detoxify and cleanse your skin with the power of activated charcoal.
Cashmere: Experience pure luxury and elegance with the warmth of cashmere.
Mohawk: Make a bold statement with this rugged and adventurous scent.
Tobacco: A timeless classic, this fragrance exudes warmth and masculinity.
Indulge in the soothing and therapeutic qualities of each soap, meticulously crafted to cleanse and revitalize. Our premium soaps are enriched with high-quality ingredients to nourish and pamper your skin. This gift set is not just about hygiene; it's about elevating your daily routine with an exceptional olfactory experience.
Benefits:
High-quality, natural ingredients that are gentle on the skin.
A diverse range of captivating scents to suit every mood and occasion.
Each soap is carefully crafted to provide a luxurious lather and effective cleansing.
Packaged in an elegant and reusable gift box, making it an excellent present.
Elevate your daily grooming ritual with Sweet Bea's Men's Soap Lover's Gift Set. This collection is more than soap; it's a sensory journey, a touch of luxury, and a holistic grooming experience in one. Treat yourself or the man in your life to the gift of exceptional soap.
Ingredients:
Coconut Oil:

 

Deeply hydrates, nourishes, and provides antimicrobial properties.
Olive Oil:

 

Softens and moisturizes the skin, is rich in antioxidants, and has anti-inflammatory properties.
Shea Butter:

 

Offers intense moisture, soothes dry or irritated skin, and maintains skin's natural elasticity.
Castor Oil:

 

Enhances lather, adds creaminess, and helps cleanse and condition the skin gently.
Hemp Seed Oil:

 

Balances oil production, soothes inflammation, and is rich in essential fatty acids.
Colloidal Oats:

 

Soothes sensitive or irritated skin, reduces itching, and provides a calming effect.
Raw Honey:

 

Acts as a natural humectant, attracting moisture to the skin for a soft, radiant complexion.
Buttermilk Powder:

 

Contains lactic acid to exfoliate and brighten the skin, leaving it refreshed and revitalized.
Heavy Cream:

 

Provides deep hydration, locks in moisture, and promotes a smoother skin texture.
Kaolin Clay:

 

Gently detoxifies and purifies the skin, promoting a smooth, even complexion while absorbing excess oils.
Handmade with Love: Our soaps are handmade in small batches with "LOVE". Due to the handmade nature of the soap, no two bars are alike; however, this adds to the uniqueness and beauty of our handmade soap.