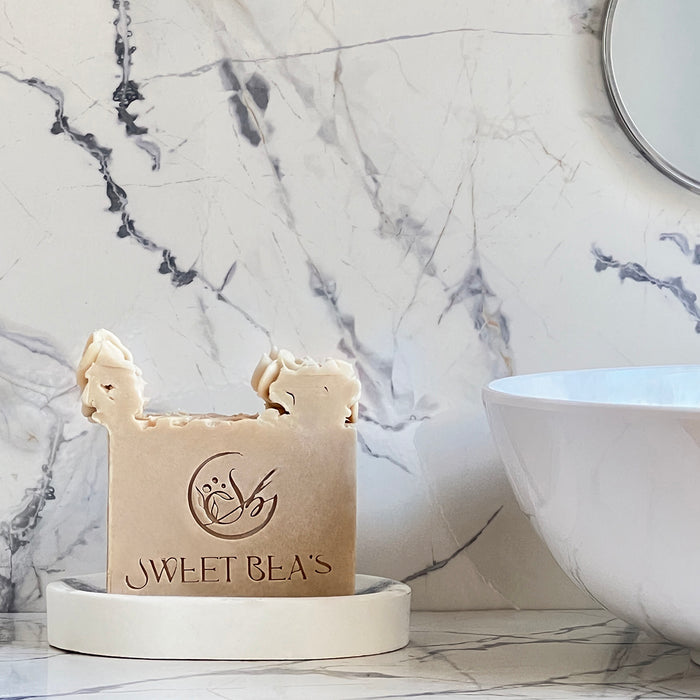 Oatmeal, Milk & Honey Handmade Soap
Original price
$10.00
-
Original price
$10.00
Indulge in the cozy and comforting scent of our best-selling Oatmeal Milk and Honey handmade soap. This soap is carefully crafted with natural ingredients to create a nourishing and moisturizing experience for your skin. Real oatmeal, milk, and honey work together to soothe and hydrate dry and sensitive skin, while also gently exfoliating for a brighter complexion. The subtle aroma of sweet honey, warm vanilla, and toasty oats will transport your senses to a peaceful and relaxed state, making it the perfect addition to your self-care routine. Enjoy the benefits of a luxurious and gentle soap that leaves your skin feeling soft, smooth, and refreshed.
The Scent: Soothing, warm oatmeal with a sugary note of fresh honey and light almond.


Handmade with Love: Our soaps are handmade in small batches with "LOVE." Due to the handmade nature of the soap, no two bars are alike; however, this adds to the uniqueness and beauty of our handmade soap.

Weight: 5.25-ounce bar
Ingredients
Coconut Oil Oliver Oil, Shea Butter, Castor Oil, Hemp Seed Oil, Kaolin Clay, Fragrance Oil, Skin Safe Colorant, Titanium Dioxide, Distilled Water, Sodium Hydroxide.

Coconut Oil:

 

Provides deep hydration, promotes skin elasticity, and has natural antimicrobial properties.
Olive Oil:

 

Nourishes and softens the skin while offering antioxidants and anti-inflammatory benefits.
Shea Butter:

 

Offers intense moisture, soothes dry or irritated skin, and helps maintain skin's natural elasticity.
Castor Oil:

 

Adds lather and creamy texture to soap while aiding in the gentle cleansing of the skin.
Hemp Seed Oil:

 

Rich in essential fatty acids, it helps balance skin oil production and soothes inflammation.
Organic Honey Powder:

 

Acts as a natural humectant, drawing moisture to the skin for a soft and glowing complexion.
Colloidal Oats:

 

Provides relief for sensitive or irritated skin, soothing itching and inflammation.
Kaolin Clay:

 

Gently detoxifies and purifies the skin while promoting a smooth, even complexion.
If you are concerned about an allergic reaction, test the soap on a small area of skin and stop using it if irritation occurs.