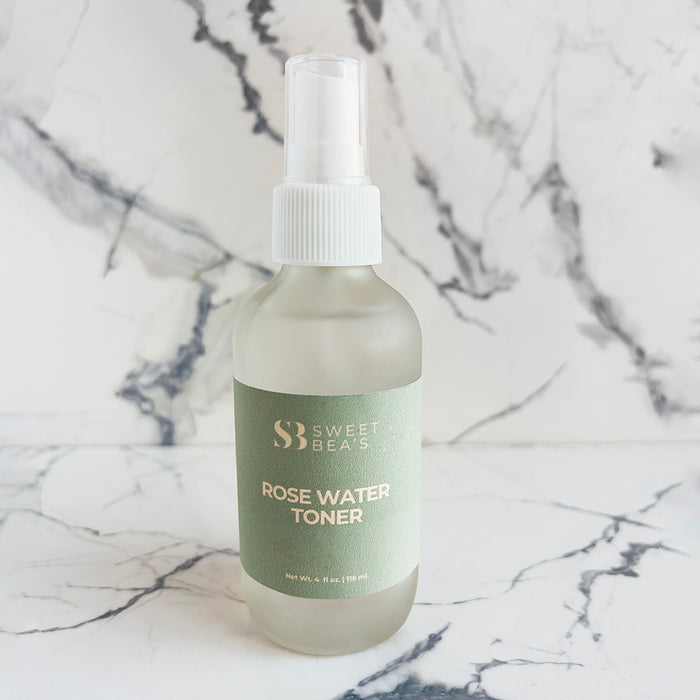 Rose Water Toner
Sold out
Original price
$18.00
-
Original price
$18.00
BodyIndulge in the refreshing and rejuvenating experience of our Pure Rose Water Toner. Carefully crafted from the petals of the finest damask roses, this all-natural toner is your secret to radiant, hydrated skin. Its delicate floral fragrance and gentle, alcohol-free formula make it perfect for all skin types.
Key Benefits:
Hydrates and Refreshes: Our rose water toner is a moisture-boosting elixir that replenishes and revives your skin, leaving it feeling soft, supple, and revitalized.

Balances pH Levels: Restore your skin's natural balance. Rose water toner helps maintain the optimal pH, minimizing excess oiliness or dryness.

Calms and Soothes: The anti-inflammatory properties of rose water make it perfect for soothing irritated skin and reducing redness.

Natural Astringent: It tightens and minimizes the appearance of pores, enhancing your skin's natural radiance.

Age-Defying Antioxidants: Packed with antioxidants, this toner helps combat free radicals, slowing aging and promoting a youthful glow.

Versatile Beauty Ritual: Use it as a toner, makeup setting spray, or a refreshing spritz throughout the day.
Elevate your skincare routine with our Pure Rose Water Toner. Experience the natural goodness of roses in a bottle and unlock the secret to beautiful, glowing skin.