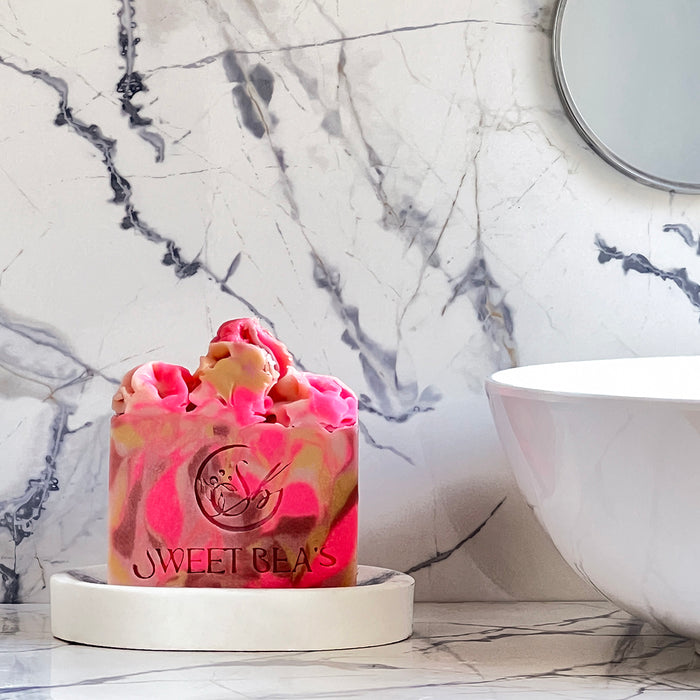 Asian Blossom Handmade Soap
Original price
$10.00
-
Original price
$10.00
Experience the luxury of a spa-like experience in your own home with our Asian Blossom Handmade Soap. It's the perfect choice for those who want to avoid the harsh chemicals found in conventional hand soaps, but still want to enjoy the delightful scents that come with them.


Benefits of All-Natural Ingredients:
Our handmade soap is made from all-natural, skin-loving oils and shea butter.

Coconut oil is a natural cleanser that helps remove dirt and oil from your skin without stripping away its natural moisture.

Olive oil is high in antioxidants, which protect your skin from damage caused by free radicals.

Shea butter is a natural moisturizer that nourishes and hydrates your skin. Hemp seed oil is rich in omega-3 and omega-6 fatty acids, which help keep your skin healthy and glowing.

Colloidal oats and buttermilk powder soothe and calm irritated skin, while kaolin clay gently exfoliates to reveal softer, smoother skin.

Raw honey and heavy cream moisturize and hydrate your skin, leaving it feeling soft and supple.
Benefits of Handmade Soap:
Our soap is handmade in small batches with love, giving each bar a unique and beautiful appearance.

The raw edges give our soap a rustic, artisanal look and feel.

Handmade soap also has a lower pH level than commercial soap, which means it's gentler on your skin and won't cause dryness or irritation.
Benefits of Fragrance:
Our Asian Blossom Handmade Soap is gently scented with a delightful blend of lychee fruit, red tea, geranium, and lily.

The sweet and refreshing aroma of lychee fruit fills the air, while the subtle smokiness of red tea, the fresh floral scent of geranium, and the creamy sweetness of lily create a decadent appeal as it cleanses.

 Phthalate-free fragrance oils.
Product Information:
Each bar of our Asian Blossom Handmade Soap weighs 6.0 ounces and is made with all-natural ingredients, including coconut oil, olive oil, shea butter, castor oil, hemp seed oil, colloidal oats, raw honey, buttermilk powder, heavy cream, kaolin clay, fragrance oil, skin-safe colorant, distilled water, and sodium hydroxide.

Indulge in the luxurious, all-natural goodness of our Asian Blossom Handmade Soap, and give your skin the pampering it deserves.
Ingredients:
Coconut Oil:

 

Deeply hydrates, nourishes, and provides antimicrobial properties.
Olive Oil:

 

Softens and moisturizes the skin, rich in antioxidants, and has anti-inflammatory properties.
Shea Butter:

 

Offers intense moisture, soothes dry or irritated skin, and maintains skin's natural elasticity.
Castor Oil:

 

Enhances lather, adds creaminess, and helps cleanse and condition the skin gently.
Hemp Seed Oil:

 

Balances oil production, soothes inflammation, and is rich in essential fatty acids.
Colloidal Oats:

 

Soothes sensitive or irritated skin, reduces itching, and provides a calming effect.
Raw Honey:

 

Acts as a natural humectant, attracting moisture to the skin for a soft, radiant complexion.
Buttermilk Powder:

 

Contains lactic acid to exfoliate and brighten the skin, leaving it refreshed and revitalized.
Heavy Cream:

 

Provides deep hydration, locks in moisture, and promotes a smoother skin texture.
Kaolin Clay:

 

Gently detoxifies and purifies the skin, promoting a smooth, even complexion while absorbing excess oils.
Handmade with Love: Our soaps are handmade in small batches with "LOVE". Due to the handmade nature of the soap, no two bars are alike; however, this adds to the uniqueness and beauty of our handmade soap.