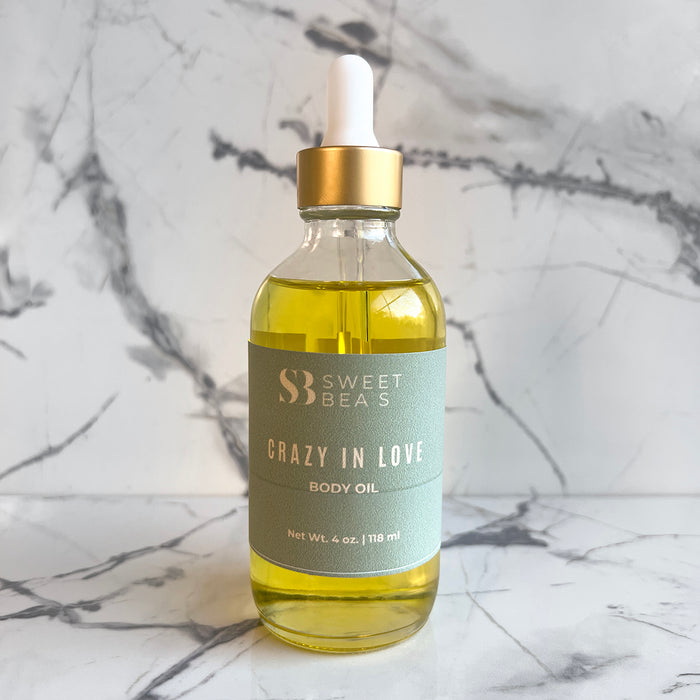 Body Oil
Original price
$18.00
-
Original price
$18.00
Elevate your self-care routine with our exquisite body oil trio, featuring three indulgent scents:  Crazy In Love, and Warm Vanilla. Our body oils are meticulously crafted to provide your skin with a nourishing and aromatic experience like no other.
Benefits:
Warm Vanilla: A warm and comforting embrace for your skin. Our Warm Vanilla body oil is perfect for relaxation and unwinding after a long day. The soothing vanilla scent creates a calming atmosphere while deeply moisturizing your skin.

Crazy In Love: Fall head over heels with the enchanting scent of Crazy In Love. This body oil is formulated to ignite passion and desire. Its rich and sultry aroma enhances intimacy while leaving your skin velvety soft.
Unveil the benefits of soft, supple skin with each of these lovingly crafted body oils. Experience the magic of Warm Vanilla, the allure of Crazy In Love, and the comforting embrace of Warm Vanilla.
Treat yourself or a loved one to this captivating trio of body oils. Whether it's a moment of relaxation, passion, or rejuvenation you seek, our body oils are designed to enhance your well-being and elevate your daily self-care ritual.