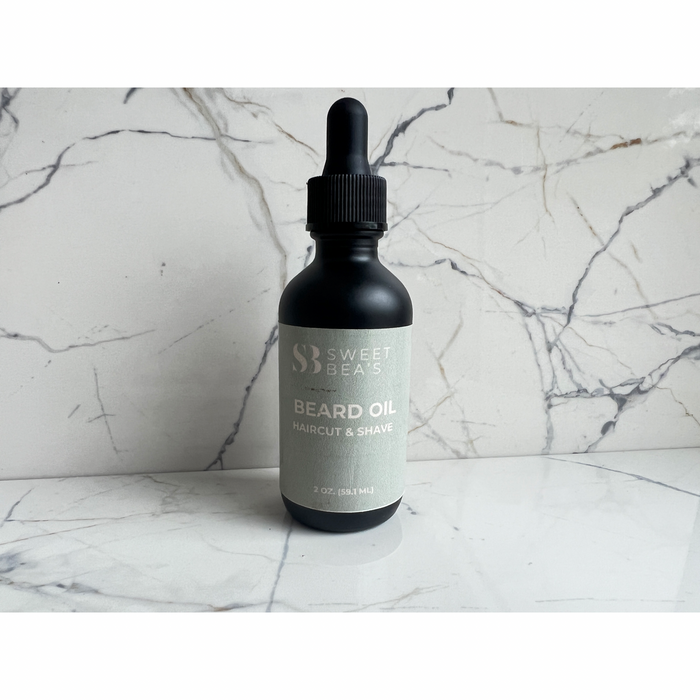 Beard Oil
Original price
$18.00
-
Original price
$18.00
Elevate your beard grooming routine with our Premium Beard Oil, a carefully crafted elixir designed to transform your facial hair into a symbol of strength and sophistication. Formulated with the finest natural ingredients, this beard oil is a blend of nourishment, fragrance, and style.
Benefits:
Deep Nourishment: Our beard oil is enriched with a potent blend of natural oils, including argan, jojoba, and grapeseed oils. These ingredients work harmoniously to moisturize your beard, making it softer, shinier, and less prone to breakage.

Healthier Skin: The oil doesn't just work wonders for your beard; it's also a treat for your skin. It hydrates the skin underneath, preventing itchiness and beard dandruff promoting healthier, softer skin.

Irresistible Fragrance: Enjoy the subtle, masculine scent that lingers throughout the day. The fragrance complements your personal style, leaving a lasting impression wherever you go.

Easy Styling: Tame unruly facial hair effortlessly. Our beard oil softens coarse hair, making it easier to groom and style, whether you're going for a clean, professional look or embracing the rugged charm of a full beard.

Premium Quality: We take pride in our commitment to quality. Our beard oil contains no harsh chemicals or artificial additives. It's cruelty-free, vegan, and crafted in small batches to ensure excellence.
Reveal the potential of your beard with our Premium Beard Oil. Make it an essential part of your grooming regimen, and watch as your beard becomes a statement of timeless elegance.
Elevate your beard game with the nourishing power of our Premium Beard Oil. Crafted for the modern gentleman who values quality and sophistication, this beard elixir will redefine your grooming experience. Say goodbye to unruly, dry beards and hello to a softer, healthier, and more stylish you. Order now and discover the secret to a perfectly groomed beard.