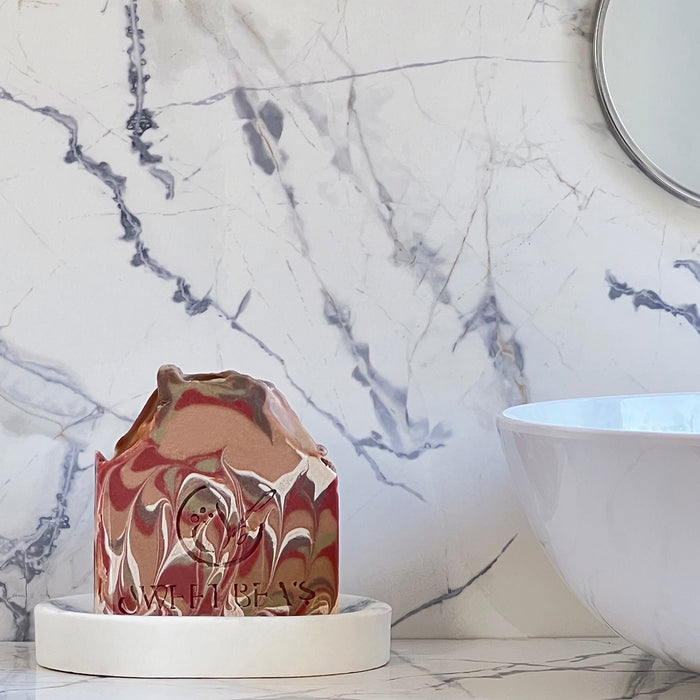 Harmony Handmade Soap
Original price
$10.00
-
Original price
$10.00
Elevate your daily grooming routine with our ruggedly refreshing Man Soap, featuring an invigorating blend of nature's best. Designed with the modern gentleman in mind, this soap offers a powerful fusion of scents that will leave you feeling confident, energized, and ready to conquer the day.
Treat yourself or surprise the special men in your life with the gift of our Man Soap. It's a thoughtful way to show appreciation and enhance their grooming experience.
Made from all-natural skin-loving oils and shea butter, this moisturizing and nourishing soap will clean your skin without drying it out. It lathers beautifully, leaving your skin feeling clean, refreshed, and soft.
All-natural ingredients leave no room for toxic chemicals or drying agents
Raw edges give this handmade soap a craftsman's touch
Gently scented for that decadent appeal as it cleanses
Phthalate Free Fragrance Oil
Fragrance Notes: Blueberry, White Freesia, Wild Grape & Pomegranate, Lily & Magnolia:, Green Vines, Cashmere & Viole
Weight:  6:0 ounce bar
Ingredients: Coconut Oil, Oliver Oil, Shea Butter, Castor Oil, Hemp Seed Oil, Coconut Milk, Organic Honey Powder, Kaolin Clay, Fragrance Oil, Skin Safe Colorant, Titanium Dioxide, Distilled Water, Sodium Hydroxide
Coconut Oil:

 

Deeply hydrates and moisturizes the skin, providing natural antimicrobial properties.
Olive Oil:

 

Nourishes and softens the skin while offering antioxidant and anti-inflammatory benefits.
Shea Butter:

 

Provides intense moisture, soothes dry or irritated skin, and helps maintain skin elasticity.
Castor Oil:

 

Enhances lather and creaminess in soap, gently cleansing and conditioning the skin.
Hemp Seed Oil:

 

Balances oil production, soothes inflammation, and is rich in essential fatty acids.
Coconut Milk:

 

Adds creaminess and nourishes the skin with vitamins and minerals.
Organic Honey Powder:

 

Acts as a natural humectant, drawing moisture to the skin for a soft, radiant complexion.
Kaolin Clay:

 

Gently detoxifies and purifies the skin, promoting a smooth, even complexion while absorbing excess oils.
Handmade with Love: Our soaps are handmade in small batches with "LOVE". Due to the handmade nature of the soap, no two bars are alike; however, this adds to the uniqueness and beauty of our handmade soap.