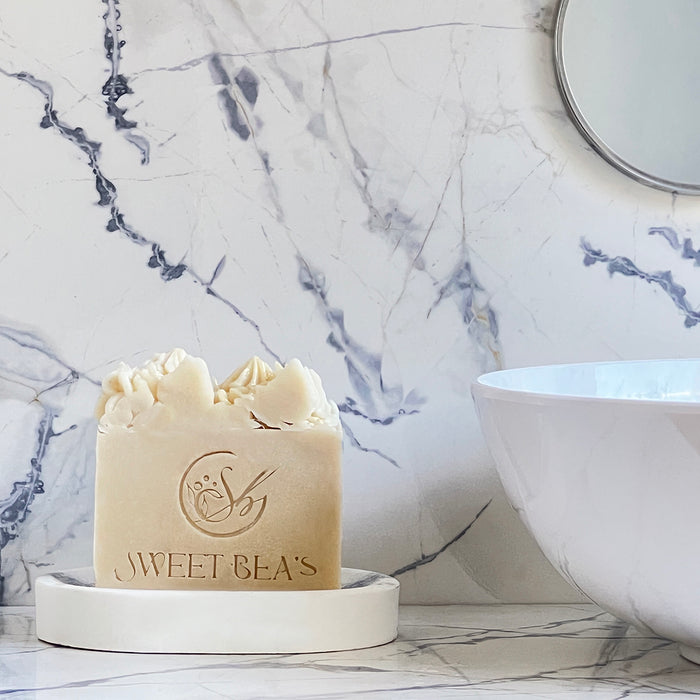 Natural Fragrance Free Handmade Soap
Original price
$10.00
-
Original price
$10.00
This handmade soap is the perfect choice for those who prefer a fragrance-free experience. Made with all-natural, skin-loving oils and ingredients, this soap gently cleanses without any added fragrances or synthetic scents. It is perfect for individuals with sensitive skin or allergies to fragrances.
This soap is made with care and attention to detail, ensuring that it is not only fragrance-free but also free from harsh chemicals and additives. It is a nourishing and moisturizing soap that leaves your skin feeling soft, smooth, and clean.
Crafted by skilled artisans, this fragrance-free soap has a rustic charm that adds to its appeal. Its simple yet effective formula is designed to provide a gentle yet effective cleansing experience that is suitable for everyday use.
Choose this fragrance-free handmade soap for a natural, gentle, and effective way to care for your skin.
The Scent: Fragrance-Free.

Handmade with Love: Our soaps are handmade in small batches with "LOVE." Due to the handmade nature of the soap, no two bars are alike; however, this adds to the uniqueness and beauty of our handmade soap.

Weight: 6.0-ounce bar
Ingredients
Coconut Oil, Oliver Oil, Shea Butter, Castor Oil, Hemp Seed Oil, Coconut Milk, Colloidal Oats, Honey Powder, Kaolin Clay, Fragrance Oil, Skin Safe Colorant, Titanium Dioxide, Distilled Water, Sodium Hydroxide.
Allergy Warning
Coconut Oil:

 

Provides deep hydration, promotes skin elasticity, and has natural antimicrobial properties.
Olive Oil:

 

Nourishes and softens the skin while offering antioxidants and anti-inflammatory benefits.
Shea Butter:

 

Offers intense moisture, soothes dry or irritated skin, and helps maintain skin's natural elasticity.
Castor Oil:

 

Adds lather and creamy texture to soap while aiding in the gentle cleansing of the skin.
Hemp Seed Oil:

 

Rich in essential fatty acids, it helps balance skin oil production and soothes inflammation.
Organic Honey Powder:

 

Acts as a natural humectant, drawing moisture to the skin for a soft and glowing complexion.
Colloidal Oats:

 

Provides relief for sensitive or irritated skin, soothing itching and inflammation.
Kaolin Clay:

 

Gently detoxifies and purifies the skin while promoting a smooth, even complexion.
Coconut Milk:  

Contains vitamins like C, E, B1, B3, B5, and B6, as well as minerals such as iron, selenium, sodium, calcium, magnesium, and phosphorus, contributing to overall skin health.
If you are concerned about an allergic reaction, test the soap on a small area of skin and stop using it if irritation occurs.