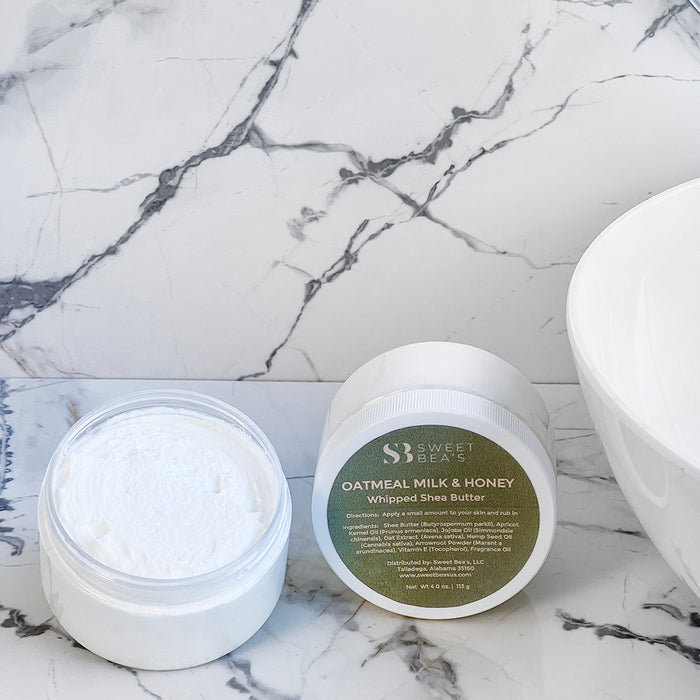 Shea Body Butter
Original price
$14.00
-
Original price
$20.00
Indulge in the ultimate skincare experience with our luxurious Shea Body Butter. Choose from a variety of captivating fragrances, including Lavender, Warm Vanilla, Oatmeal Milk & Honey, and Crazy In Love. Say farewell to dry, irritated skin as it undergoes a magical transformation, rapidly rehydrating with the gift of replenishing natural goodness.
Product Benefits:
Renewed Radiance: Experience the renewal of your skin's natural radiance as this decadent butter works its wonders.
Protective Shield: Our concentrated formula acts as a protective shield, safeguarding your skin's suppleness with every application.
Deep Hydration: Dive into a sea of deep hydration with every spoonful, packed with pure moisture for your skin's delight.
Natural Nourishment: Embrace the power of natural skin-loving oils that nourish as they work, leaving your skin refreshed and rejuvenated.
Heavenly Scent: Revel in the heavenly scent that lingers, providing a sensory experience like no other.
Crafted with Care: Our Shea Body Butter is a beautiful handmade bath and body product for those who appreciate the craftsman's touch. We've harnessed the goodness of all-natural ingredients, providing a wholesome approach to skincare.
Key Ingredients: Refined Shea Butter, Apricot Kernel Oil, Jojoba Oil, Hemp Seed Oil, Vitamin E, Arrow Root Powder, Fragrance Oil
Net Weight: 8.0 ounces
Embrace your choice of Shea Body Butter fragrance and rediscover your skin's vitality. It's time to pamper yourself with the best!